Congratulations to all of the Baltic art students who had artwork at the State Visual Arts Contest in Rapid City this past weekend!  Their artwork was on display at the Monument Civic Center.  Baltic placed 5th out of 18 teams competing in class A.  We had four students medal in their categories,  Lydia Magnuson, Grace Wolff, Coryn Wolff, and Shelby Appel.  Great Job!

Dear Parents, For some unknown reason, the school phones are down, so we cannot accept incoming calls or make out-going calls. We have contacted Alliance Communications and hopefully it will be resolved soon, in which case I will send another email. Supt. Bob Sittig Estimados padres, Por alguna razón desconocida, los teléfonos de la escuela están caídos, por lo que no podemos aceptar llamadas entrantes ni realizar llamadas salientes. Nos hemos puesto en contacto con Alliance Communications y esperamos que se resuelva pronto, en cuyo caso enviaré otro correo electrónico. superintendente bob sittig

New School Construction Update If you drove by the east side of the school yesterday, you saw construction equipment in operation, which is very exciting. Let me explain how we got to this point and what you can expect moving forward. 1. Our general contractor Hoogendoorn Construction has submitted an application to the City of Baltic for a building permit, which is required of all such projects. The City has granted an excavation permit that allows the dirt work to commence, which began yesterday. 2. As is the usual process, the City examined the construction plans, and they have identified a couple of issues where the plans do not comply with existing zoning regulations and/or City ordinances. City personnel has been working with school architects and engineers to develop options for addressing the deficiencies and it appears workable solutions have been agreed upon. Without going into great detail, the issues will be addressed at a City Planning and Zoning Commission meeting at 6:00 pm on March 22nd and at a special meeting of the City Council at 6:30 pm also on March 22nd. Discussions with City personnel make us optimistic that the zoning/ordinance issues will be resolved at those meetings, the building permit approved, and construction will commence on schedule. Ryan Fods, City Planning and Zoning Administrator, has been especially helpful in this process. 3. For those of you interested in construction details, the contractor plans to begin pouring footings by mid-April, and they hope to have the building enclosed by Christmas with final completion and occupancy by the start of the 2024-25 school year, assuming optimal construction conditions. 4. Our vocational classes will use drones to document construction progress, and pictures will be posted on the school website under the Building Project tab. 5. Keep in mind that this is a construction site involving heavy equipment. Please stay out of the construction site, and practice good safety protocols when driving in that area. Bulldog Avenue will remain open for the remainder of this school year, but shortly after the last day of school in May, it will be closed for the summer east of the high school gym all the way to 5th Street. How construction will affect parking and traffic on the east side of the school next school year will be decided at a later date. 6. We are very excited to see construction begin, but there will be a few disruptions to normal activity during the process. Thank you to the residents of the Baltic School District for approving this project, which will be a great addition to our community and serve our educational needs well into the future. Supt. Bob Sittig

The Baltic Robotics students visited our Kindergarten classrooms the other day to teach them about robots and all of the interesting roles that they play in our every day lives.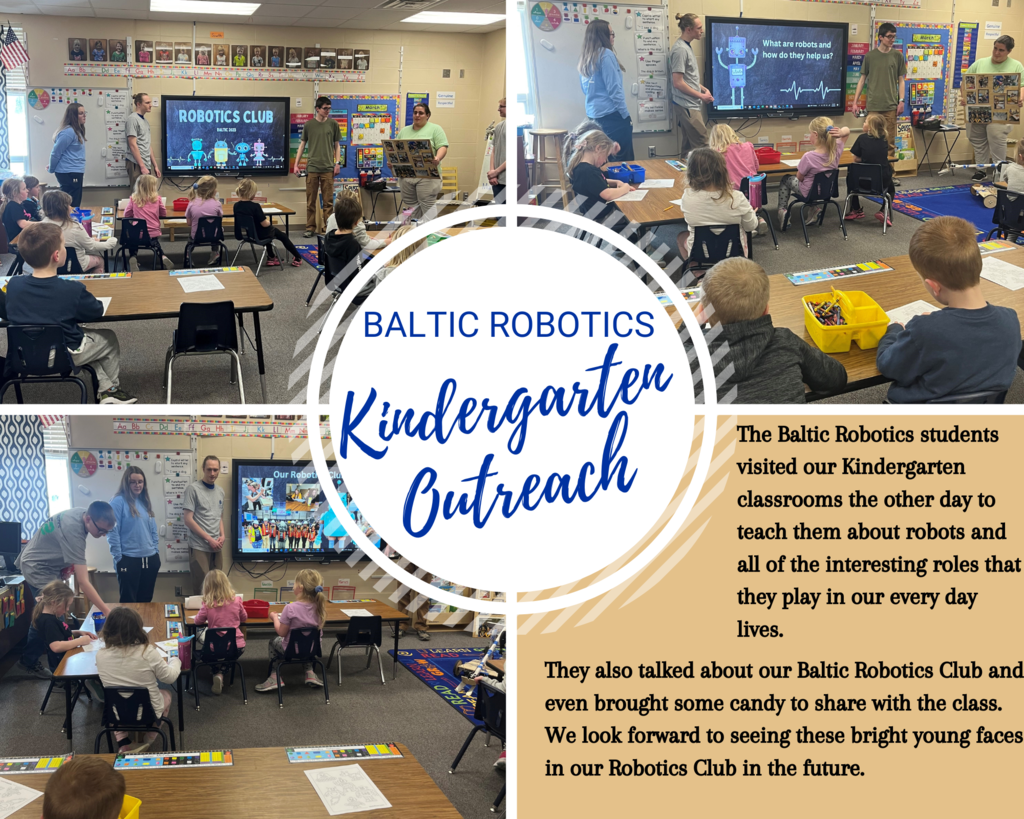 The Baltic Cheer team is having a FUNDRAISER! Check out the perfect spring and summer slide for your child! Click on link to order.
https://balticbulldogs.itemorder.com/
Slides will be delivered to school and you will be notified when to pick up your order.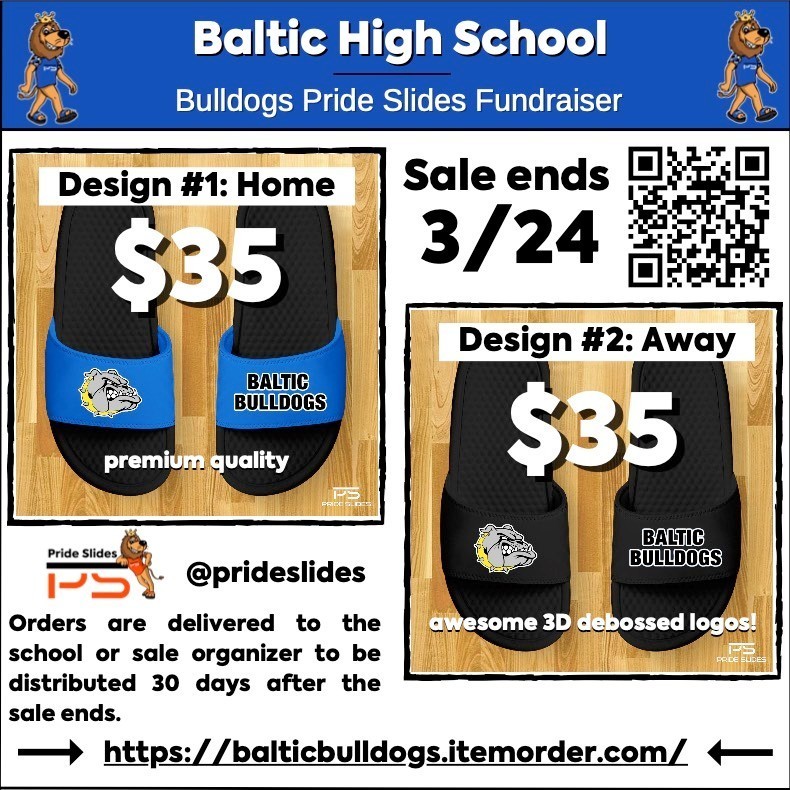 Congratulations Baltic Bulldog Powerlifters!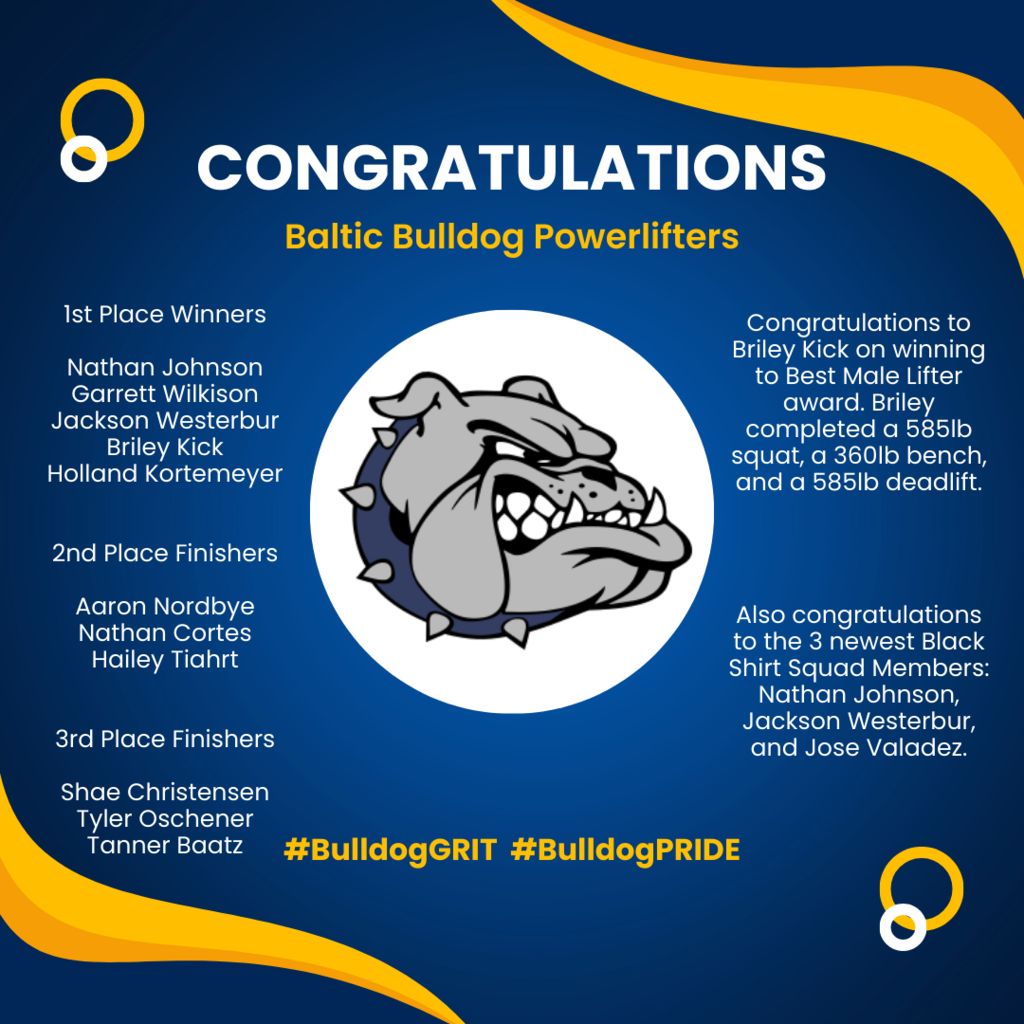 Baltic FFA Breakfast is tomorrow morning (3/2/23) in the old school gym! 6:30-8:00 am! #BulldogGRIT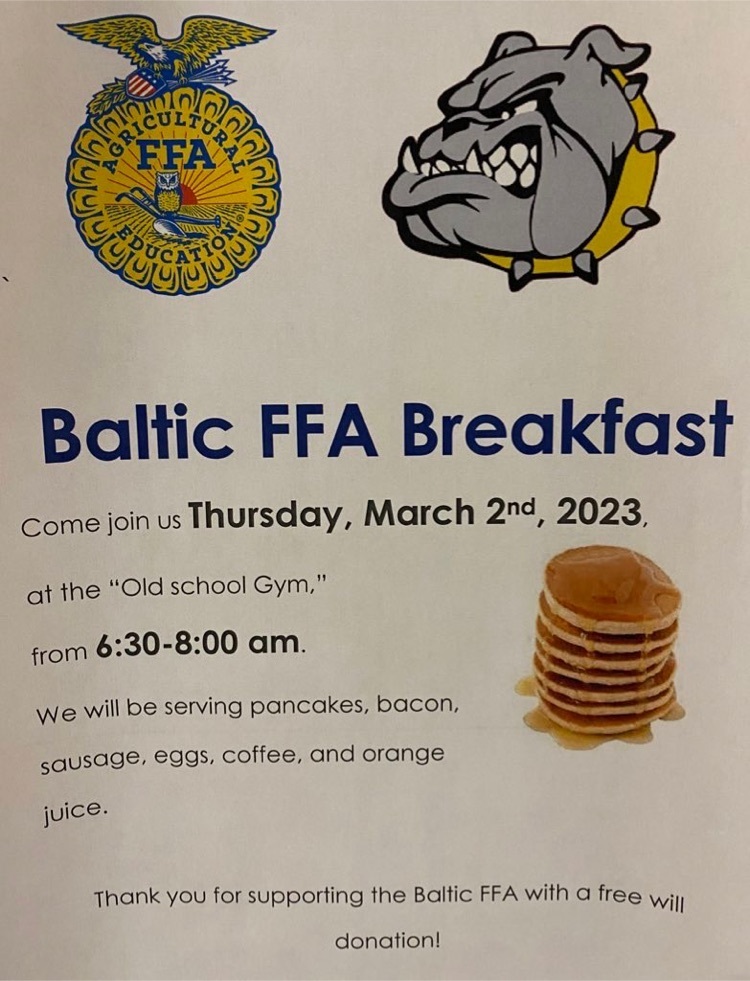 Baltic FFA Breakfast Come join us Thursday, March 2nd, 2023 at the "Old School Gym" from 6:30 - 8:00 am. We will be serving pancakes, bacon, sausage, eggs, coffee, and orange juice. Thank you for supporting the Baltic FFA with a free will donation.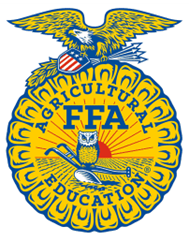 The Baltic Lady Bulldogs will be taking on SF Christian in the 1st Round Region game on Tuesday, February 21st at SF Christian. ​The game time has been changed to 5:00 PM with warm-ups starting at 4:35, introductions at 4:55 and tipoff at 5:00. We hope to see you all out there supporting our team. Go Bulldogs!

Reminder that there will be a Booster Club Pasta Meal before the game on Monday. Below is also the sign up link if you would like to help or donate any items.
https://www.signupgenius.com/go/20F0448A4AC2AA13-athletic
JV game starts at 6:15 versus Tri-Valley with Varsity to follow. See you all there. Go Bulldogs!​

Mrs Rollinger's 6th graders doing their book cafe! "Taste testing" books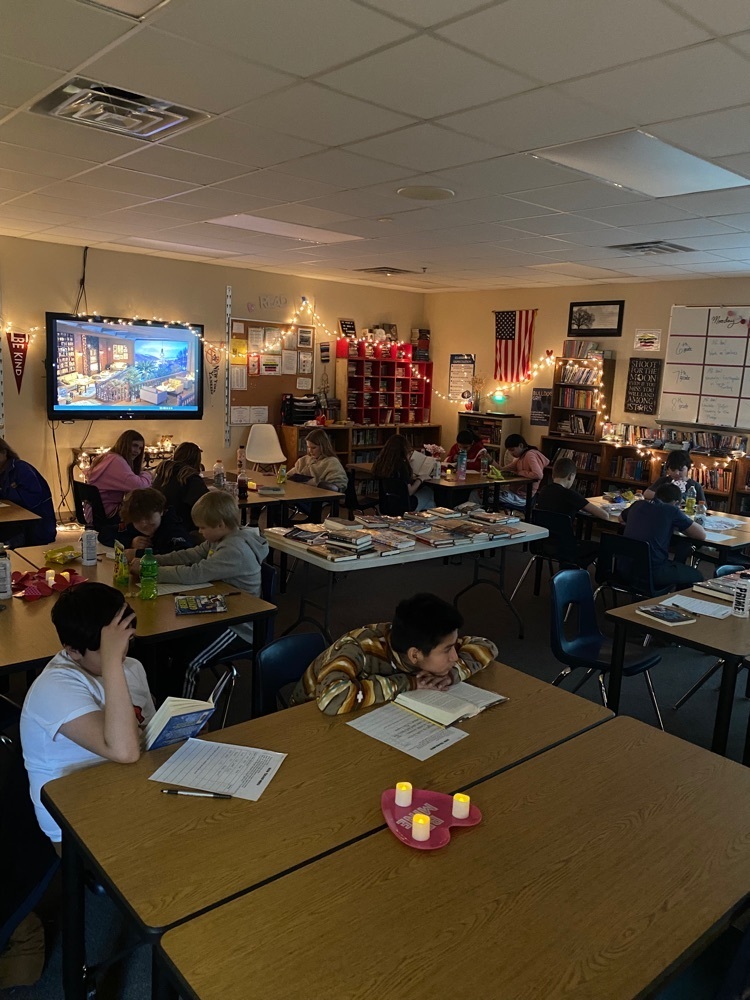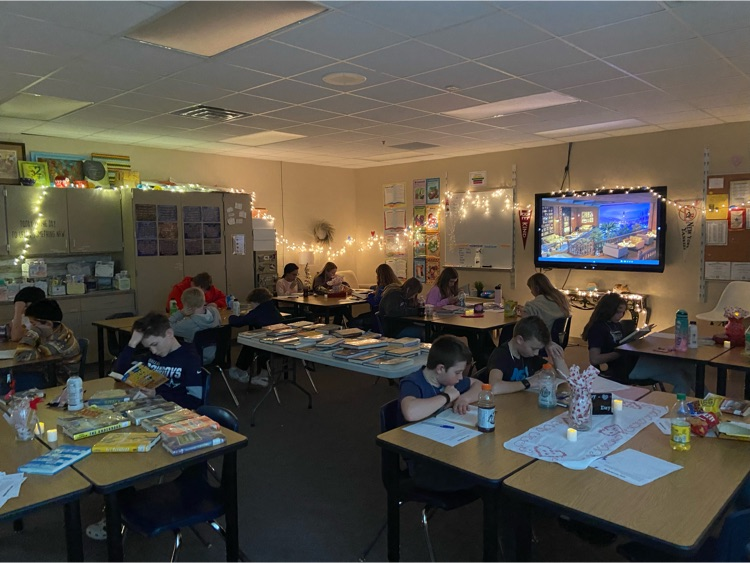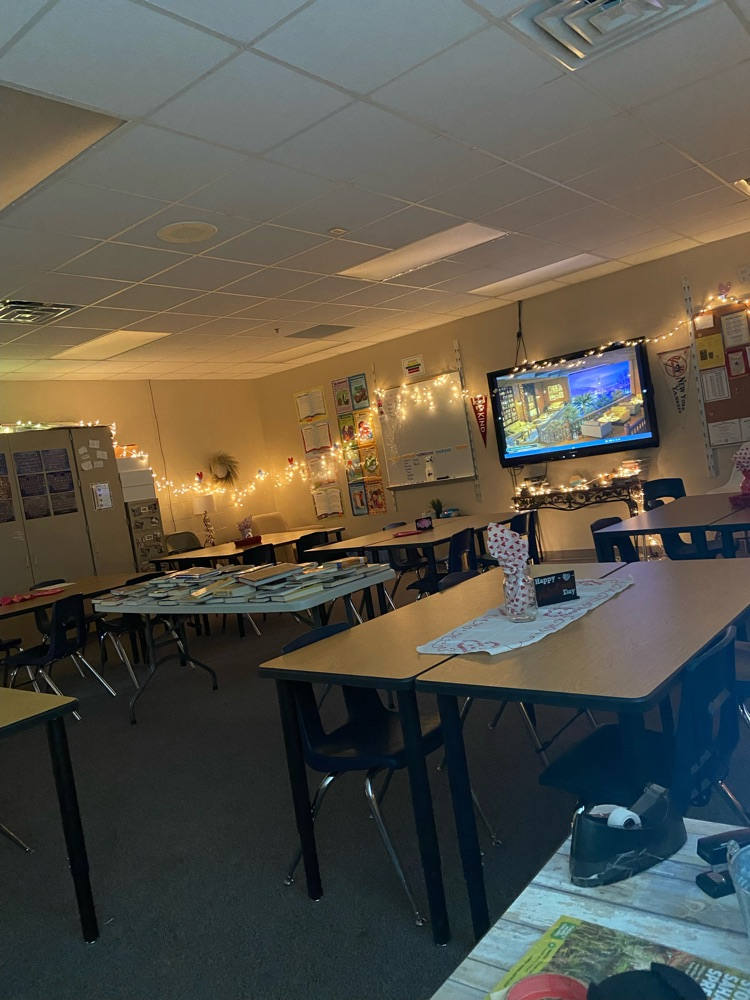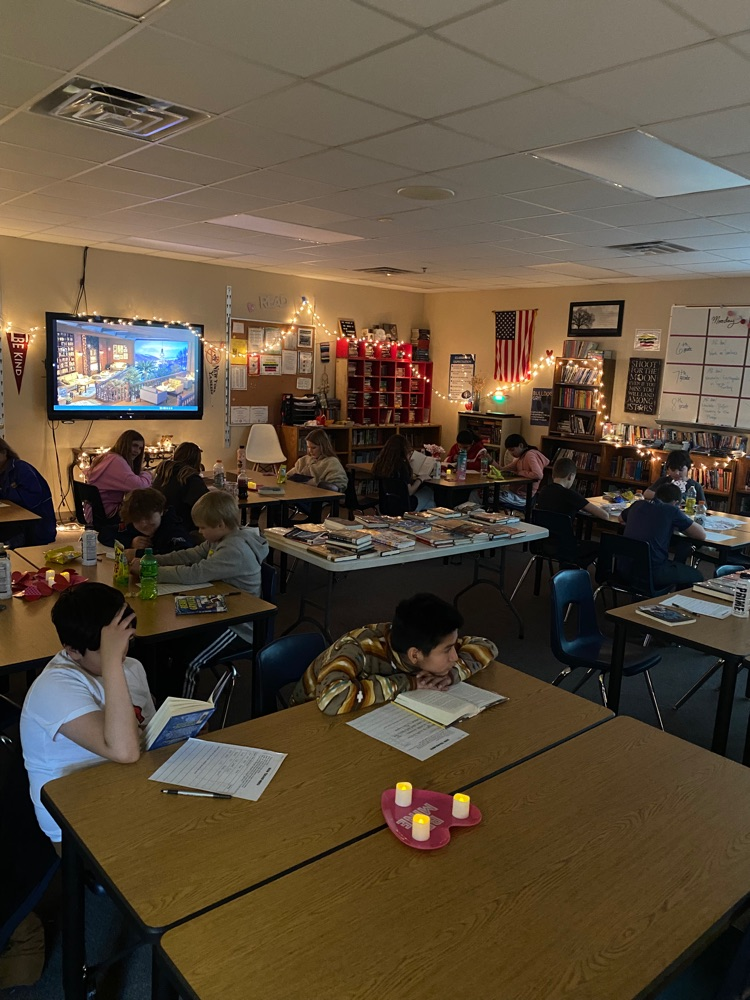 8th grade parents/guardians: Mrs. Schmitz would like to meet with all 8th grade parents/guardians WHAT: 8 th grade parents meeting covering high school graduation requirements and post-secondary planning. WHEN: Thursday February 16 th (during Parent/Teacher Conference) at 6:30 pm WHERE: Chorus room Hope to see you all there!

This week is short for school days but still filled with all sorts of activities that we hope to see you all at. Good luck and Go Bulldogs!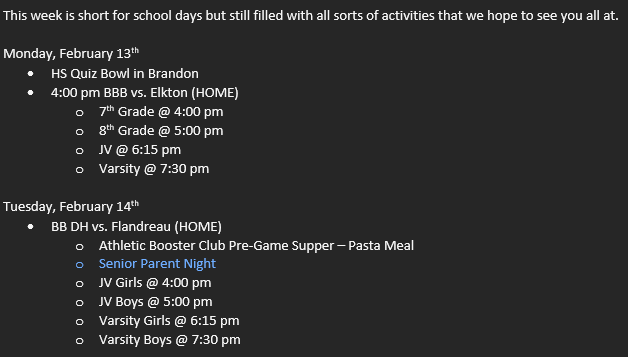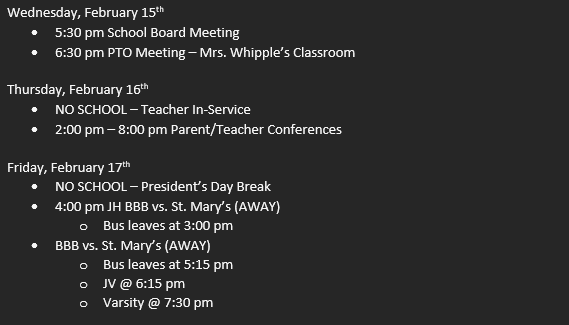 The first Middle School dance was a success! #BulldogGRIT Thank you chaperones!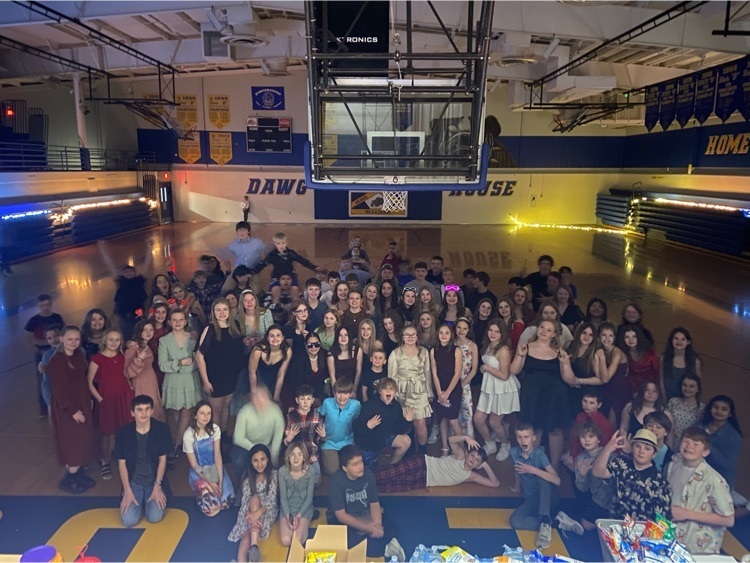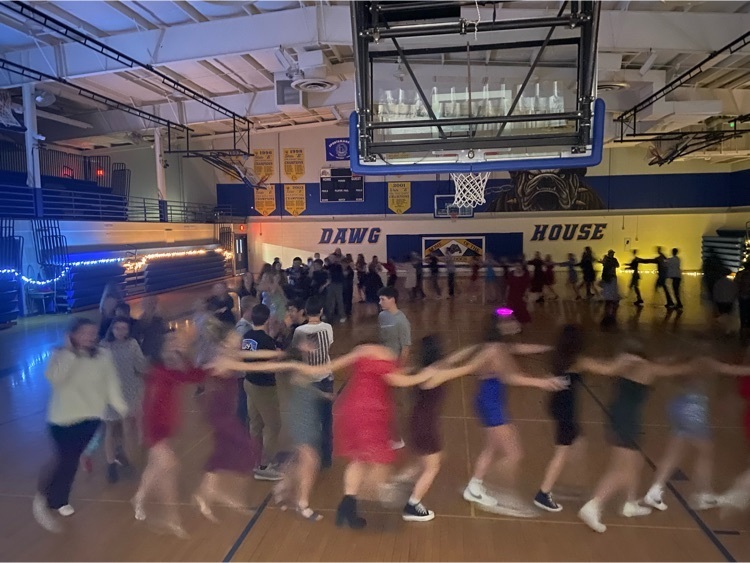 If you have a student who will be 5 years old on or before 9/1/23, please bring them and join us for Kindergarten Roundup. Please see out Elementary Hub for more details:
https://www.balticschool.org/page/elementary-hub
Baltic School Commons - 3/7/23 - 5:30 to 6:45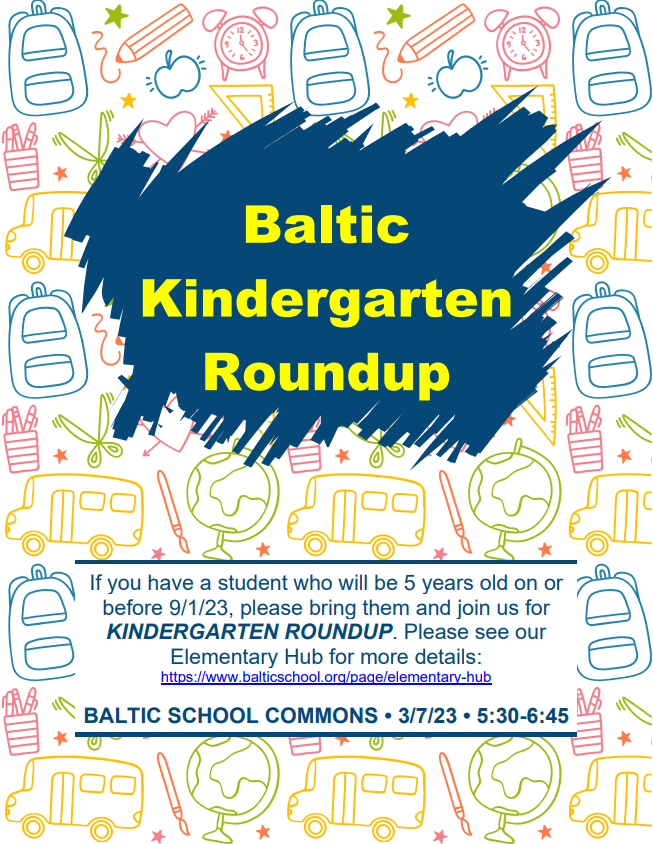 One of our very own Blue Weatherford is doing SR project hours with the National Weather Service Sioux Falls! Here is the forecast that was made by Blue and published by the NWS Sioux Falls #BulldogGRIT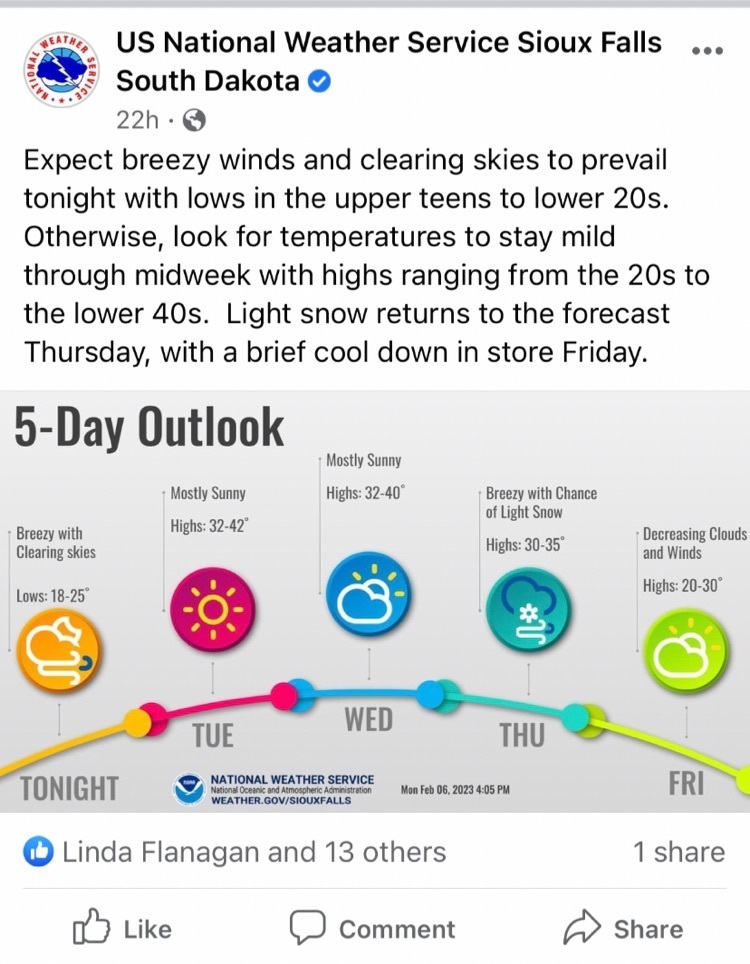 Mrs. Button's 4th grade class won the torch this week for having the largest number of students participating in our American Heart campaign.
Thank you to everyone that has donated items for the Baltic food bank so far! We have 4 more days of the Educators Rising "Super Food Bowl". The winning grade in the elementary and secondary school will earn an ice cream treat (thank you Baltic PTO). Elementary Current Standings: JK/Preschool- 70 points Kindergarten- 63 points 1st Grade- 63 points 4th Grade- 42 points 3rd Grade- 28 points 5th Grade- 28 points 2nd Grade- 21 Points Secondary Current Standings: 6th Grade- 21 points 11th Grade- 21 points 7th Grade- 7 points 8th Grade- 7 points 9th Grade- 0 points 10th Grade- 0 points 12th Grade- 0 points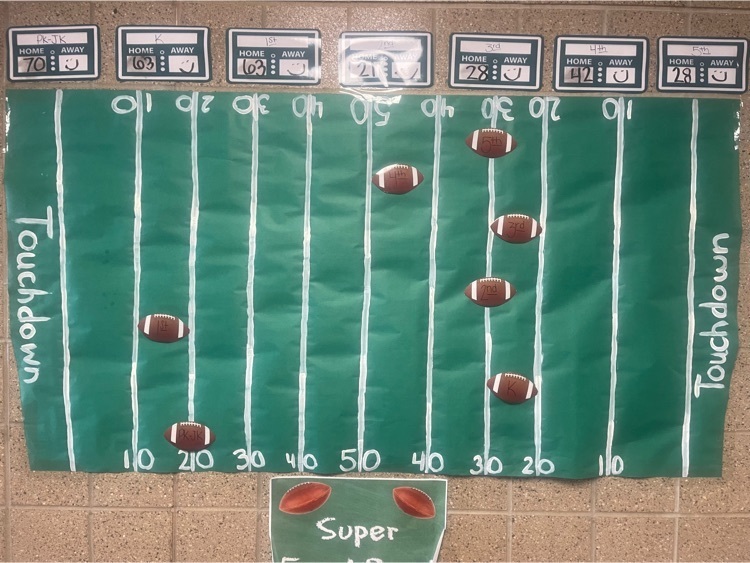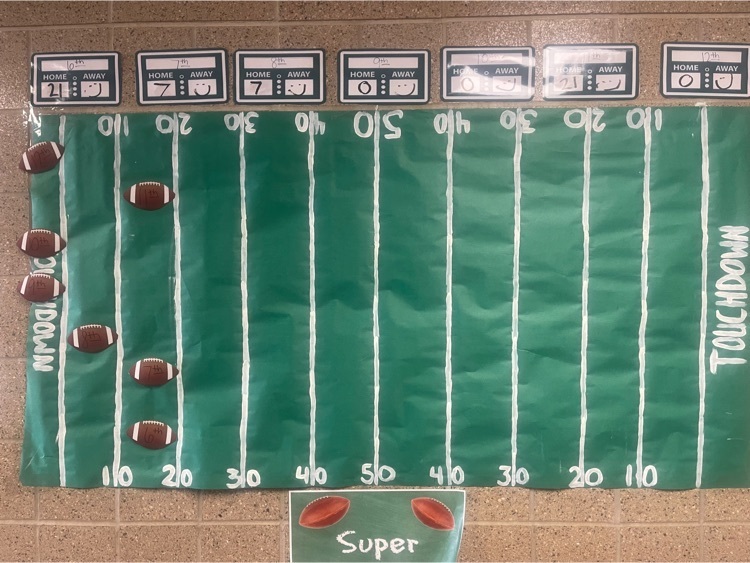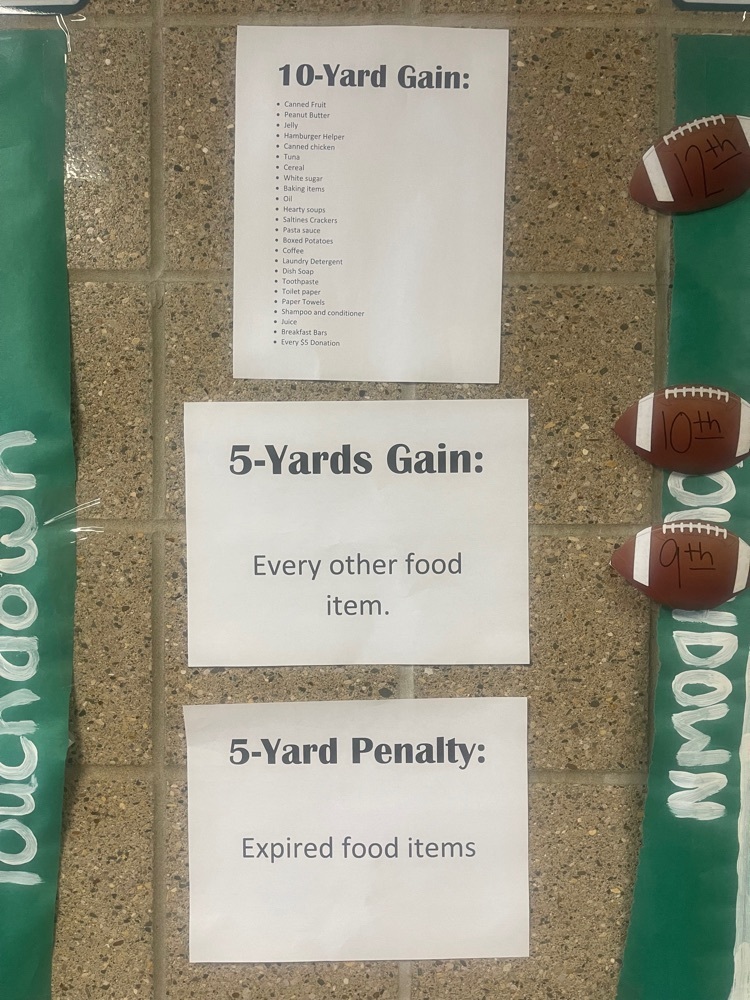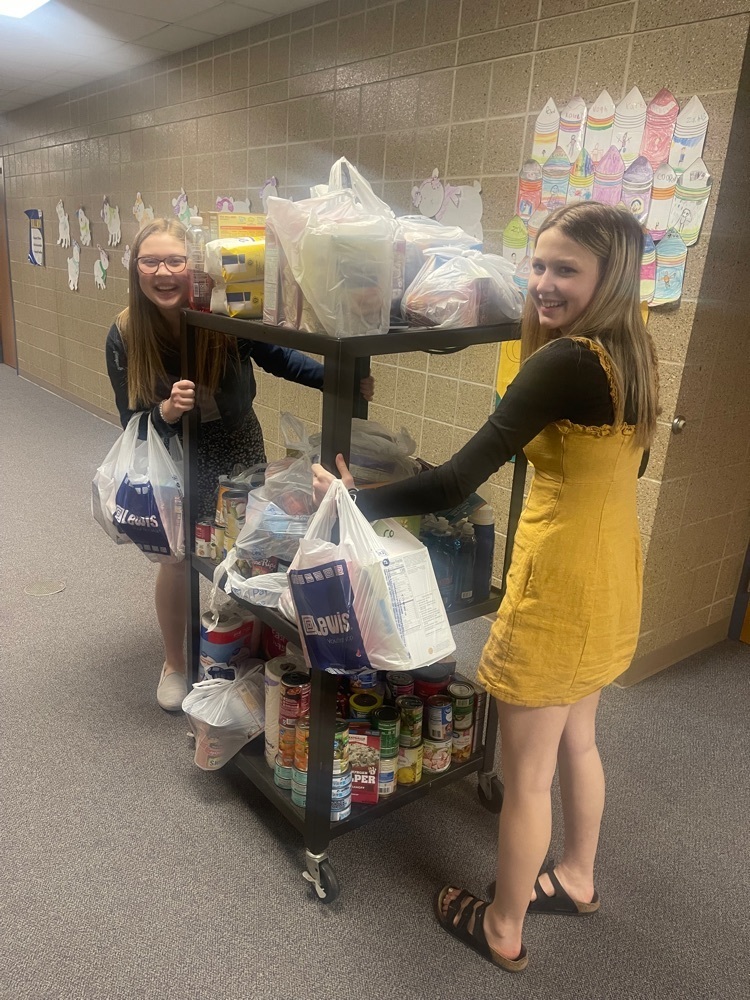 Good morning Baltic Bulldogs! This week we have quite the lineup of events and hope to see you there. Thank you to everyone that helped and contributed to the Booster Club Basketball Tournament this past weekend and thank to those that helped with the cheer clinic this last Friday. Your efforts and contribution to those activities is greatly appreciated.