Baltic High School is proud to announce the members of the Baltic High School Hall of Fame Class of 2021. Listed below are the recipients who were selected by the Hall of Fame Selection Committee for induction into the Hall of Fame. The Hall of Fame induction will take place at half-time of the Baltic homecoming football game on Friday, October 1, 2021 at approximately 7:45pm. Roger Berdahl – Class of 1966 Roger Berdahl was very active in many activities at Baltic High School including being the captain of the football team and basketball teams, and participating in track, band, choir, All-State Choir, drama, homecoming royalty, and class officer. The summer after graduating from Baltic, he earned rave reviews in the Sioux Falls Community Theater production of "The Fantastiks" at the Barn Theater, which eventually led to a professional singing and acting career. He sang with a vocal group called "Just Us," which was later changed to "What Four" with the group performing five times on the Johnny Carson Show. In addition to his singing career, Roger acted in various productions on and off-Broadway including Shenandoah, The Best Little Whorehouse in Texas, and King of Hearts. One reviewer said Roger had "a glorious tenor voice," and another said he had "a rich baritone voice that is able to explore high registers," and that "he imported just the right shades of wistful innocence to his acting role." Taylor Forsch – Class of 2009 Taylor Forsch was an outstanding basketball player scoring 1,611 points in her Baltic career, which ranks third on Baltic's career scoring list. As a junior, she averaged 20.6 points per game and was named 3rd Team All-State, and as a senior she averaged 21.1 points per game and was named 1st Team All-State. In addition, she was a member of the Argus Leader Girls Basketball Top 10, she was a SD Miss Basketball Nominee, she was Big East and Tri-Valley All-Conference four years each, and she was a five-year basketball letter winner and three-time team MVP. In addition to being an outstanding scorer, she ranks first in Baltic girls basketball for assists and second in steals in a career. After high school, Taylor played four years of basketball at Mount Marty College where she scored 1,191 points, she was GPAC All-Conference and team MVP her junior and senior years, and her senior year she ranked 4th in the nation for NAIA 3-point shooting. Marv Miller – Employee and Contributor Marv Miller is a long-time employee and contributor in the Baltic School District. He was a social studies teacher and athletic coach from 1981-2008. Mr. Miller served as clock keeper for boys basketball for 40 years from 1981 to the present, clock keeper for girls basketball from 1996 to the present, and football announcer from 1988 to the present. In addition, he served as starting clerk for the Tri-Valley Conference Track Meet for 30 years, the starting clerk for the Region Track Meet for 15 years, and the starting clerk for the Baltic Invitational Track Meet from 2013 to the present. For his actions, Mr. Miller has been the recipient of the Baltic Booster of the Year Award, Baltic Teachers Association Hero Award, Baltic Friend of Basketball Award, 1989 Region Assistant Girls Basketball Coach of the Year, 10-year SDHSCA Coaching Award, Tri-Valley Conference Service Award, SDFBCA Friend of Football Award, and he was named to the Michael J. Entringer Basketball Classic Hall of Fame. Jacob Sittig – Class of 2007 Jacob Sittig was an outstanding basketball player who scored 1,339 points in his high school career, which ranks second in Baltic boys basketball history. As a junior, he averaged 20.5 points per game and was named Third Team All-State, and as a senior, he averaged 21.7 points per game (third in school history) and was named Second Team All-State. In addition, he scored 36 and 35 points in single games, which are two of the top five performances in school history. Jacob ranks first in career 3-pointers made (177), first in 3-pointers made in a game (9), and first, second and fourth in free throw percentage in a season. As a senior, Jacob led Baltic to the district championship, only the fifth district boys' basketball championship in school history. Jacob earned 13 varsity letters in his high school career including four each in football and basketball, three in track, and two in golf. He was all-conference in football, qualified for the state track meet in high jump, medley relay and 4x100 relay, and he was a state qualifier in golf. 1995 Girls' Basketball Team In the fall of 1994, Baltic had a young but very competitive girls' basketball team that compiled a 15-7 record losing in the region championship to eventual state champion Wakonda. The fall of 1995 came with high hopes for an outstanding girls' basketball season, and the team certainly did not disappoint. The Lady Bulldogs compiled an 18-1 regular season record and entered district play ranked second in the State. The team cruised through the district tournament winning both games by 20+ points setting up a rematch in the region championship against 4th ranked Wakonda. The Lady Bulldogs defeated Wakonda earning their first ever trip to the State Tournament. In the State Tournament, Baltic defeated Jones County and Warner to set up a rematch with Avon, there only loss of the regular season, in the championship game. In a state championship double overtime classic, the Lady Bulldogs avenged their earlier loss to Avon and became Baltic's first ever-state championship team in any sport finishing the year with a 24-1 record. Sincerely, Bob Sittig Hall of Fame Committee Chairperson and Baltic School District Superintendent
Hello Baltic Families, Homecoming week is set to begin on Monday, September 27th. We are looking forward to a week full of activities which includes our annual Homecoming Parade on Friday, October 1st at 1:30pm. If you plan to participate in the parade with a float or entry, please follow the link below and sing up by Thursday, September 30th at noon. We will begin putting together the parade line up and write ups at this time. Homecoming Parade Registration Thank you, Cameron Kerkhove Secondary Principal/AD
Hello Baltic Families, The High School Student Council designed a homecoming shirt again this school year. If you are interested in purchasing a homecoming shirt, please follow the attached link below. In order to get the shirts back in time for homecoming week, the store will close at 11:59pm on Monday night. All orders must be placed by then. We hope to have the shirts back by Friday the 24th or Monday the 27th. Homecoming Shirt Order Thank you, Cameron Kerkhove Secondary Principal/AD
Help paint the town Blue and Gold! The Baltic Athletic Booster Club will again be painting paw prints on driveways, sidewalks or in front of businesses to show school and community spirit. Each set of paw prints is $20 (one blue paw print and one gold paw print). Each paw print is approximately 3ft by 3ft!! In addition, this year, we will be adding numbers. You can have the number of your favorite player or players on your driveway for $10.00. Sign up via the link below before 2:00pm on Wednesday, September 29th, 2021 to have your paw prints and or numbers painted in time for Friday's Homecoming festivities. Sign up with your name, address and phone number. We will begin painting Sunday, September 19th and a Booster Club member will stop by to collect payment (cash or check) prior to painting the paw prints and or numbers. *Please note - paw prints will be painted on the left lower side of driveways (1 blue and 1 gold) and numbers will be painted on the right side of driveways unless noted otherwise in the comments section. If you are purchasing numbers, all numbers will be painted in white. Businesses or those without driveways, please note in the comment section where to place paw prints as well. This fundraiser will help support Baltic athletes of all ages and we greatly appreciate your support. GO BULLDOGS!!!
https://www.signupgenius.com/go/10C0C4EA5AE2CA4FE3-painting
Baltic Families, We would like you to be aware of a concerning trend that has turned up in local schools. A challenge on the social media platform TikTok encourages students to steal or destroy items at school and then post a picture or video of the item as a "trophy." We have not yet experienced this trend, but we would like to be proactive. Theft and vandalism have school consequences that include suspensions, financial restitution, and the loss of privileges. These cases will also be referred to the police for charges. Please talk with your student(s) about this trend and make your expectations known to them. We have beautiful facilities in our district and many hard-working staff who take pride in keeping them maintained for our benefit. Thank you for partnering with us to keep our schools and students safe. Baltic School District
Please be advised of the following school calendar changes: 1. Due to a conflict with volleyball matches, the October School Board meeting has been moved from Monday, October 11th to Tuesday, October 12th at 7:30pm. 2. Due to a shortage of football officials, the SDHSAA is requiring all schools to move one of their games off of a Friday night. As a result, Baltic's last regular season football game at home vs. Bridgewater-Emery on Friday, October 15th has been moved from the usual 7:00pm start time to 2:00pm on the same day. To accommodate the home afternoon football game, school will dismiss at 1:15pm on that day, October 15th, and busses will run their normal routes for a 1:15pm dismissal. 3. A reminder, school will dismiss at 1:15pm on Thursday, October 7th for Parent-Teacher Conferences from 2:00-8:00pm. 4. A reminder also that there is no school for students on Friday, October 8th for teacher in-service, and no school on Monday, October 11th for Native American Day. Supt. Bob Sittig Tenga en cuenta los siguientes cambios en el calendario escolar: 1. Debido a un conflicto con los partidos de voleibol, la reunión de la Junta Escolar de octubre se ha trasladado del lunes 11 de octubre al martes 12 de octubre a las 7:30 pm. 2. Debido a la escasez de oficiales de fútbol, la SDHSAA requiere que todas las escuelas retiren uno de sus juegos de un viernes por la noche. Como resultado, el último partido de fútbol de la temporada regular de Baltic en casa contra Bridgewater-Emery el viernes 15 de octubre se ha movido de la hora habitual de inicio de las 7:00 pm a las 2:00 pm del mismo día. Para acomodar el partido de fútbol de la tarde en casa, la escuela terminará a la 1:15 pm de ese día, 15 de octubre, y los autobuses seguirán sus rutas normales para la salida a la 1:15 pm. 3. Un recordatorio, la escuela terminará a la 1:15 pm el jueves 7 de octubre para las conferencias de padres y maestros de 2: 00-8: 00pm. 4. Un recordatorio también de que no hay clases para los estudiantes el viernes 8 de octubre para los maestros en servicio, y no hay clases el lunes 11 de octubre para el Día de los Nativos Americanos. Supt. Bob Sittig
Baltic Blood Drive Friday, September 24th, 2021 7:00 am to 11:00 am / 12:30 pm to 4:00 pm Baltic High School - Call 529-5461 to schedule a time Walk-ins welcomed too.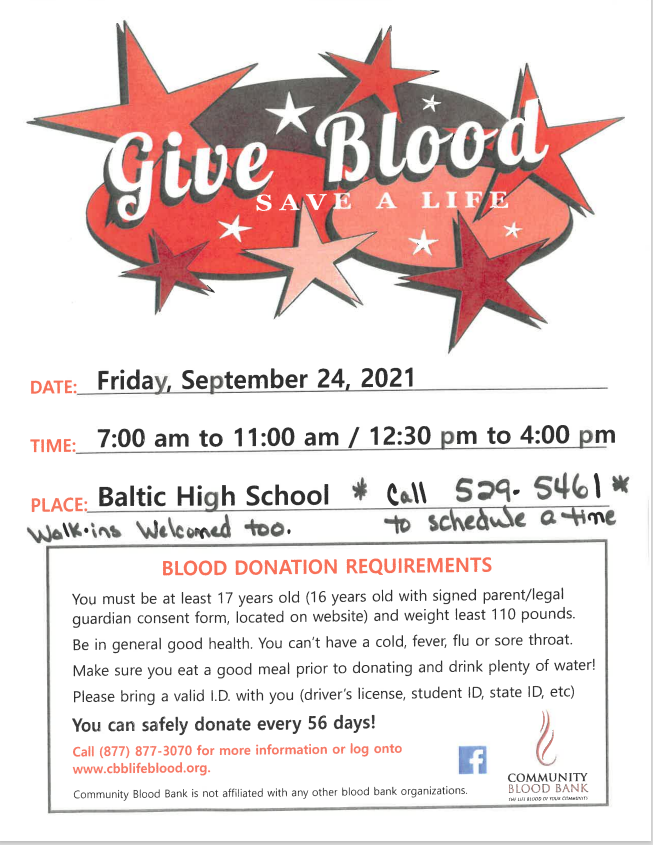 Juniors and Seniors: Fall Planning Day is September 23 at Augustana University. There will be close to 100 post secondary institutions there to gather information from. Please read your email from Schmitz, sign up prior to September 17th if you would like to go, and email Schmitz that you signed up. Transportation will be provided. Augustana is requiring masks during the 45 minutes we are there.
Senior parent night has been set. Volleyball and Cross Country will be October 14, 2021 with it being announced before warm ups at the volleyball match. (approximate time of 7:00 pm). Football and Cheer will be on September 10, 2021 prior to the starting lineups at the football game. (approximate time of 6:45 pm).
Parents and Students, Fall pictures that some of us "old" folks still refer to as "ping pong" pictures are coming Thursday, September 2nd. Picture order packets were sent home with students today and should be returned on picture day. All students in grades PK-12 are asked to take a picture, even if you do not intend to purchase any pictures. We have all students take a picture for inclusion in the school yearbook and class composite, and also for use in Campus when making seating charts with pictures for substitute teachers. The picture company will once again be Photography by Mark who provides us with a limited number of hardship picture packages that include two 3 X 5 and eight exchange size pictures. If financial issues prevent you from ordering a picture package, contact Brittany at 529-5464 or at
brittany.wipf@k12.sd.us
to make a confidential request for a hardship package that will distributed on a first come-first serve basis. Instead of returning the order form, orders can be placed online as outlined below. How To Order School pictures Online… 1. Go to
www.schoolphotosbymark.com
2. Click on "Order Here" 3. Choose the "Click here to order" 4. Enter "BASD "for the event name, click "search" 5. Click on your school district 6. Click on Tea Sports, then choose your sport. 7. Enter your email address and click "login". All orders are tracked with the email address you enter. 8. You should now see a page with our photo packages. Choose from any of our packages and/or order ala-carte items. 9. Once you are done shopping, click on the "shopping cart" icon. You will be prompted for your students information as well as yours. That is it! Once again, all PK-12th grade students are asked to take a picture regardless of whether you purchase any pictures. Call a school office if you have any questions. Supt. Bob Sittig
Baltic School District Daily Announcements Congratulations to our 2021 -2022 Champions of Character on Track Representatives: Elyssa Clark; James Leffring; Julia Pittman Seniors: Please add class motto ideas to the document emailed to you. Ideas are due by the end of the day Thursday. Any HS student interested in Writing Club, please sign up in Ms. Daugaard's room by the end of the week. Reminder: First Day of CTE Classes is Tomorrow, August 26th Any Junior or Senior interested in running for student council officers, please notify Mr. Kerkhove by today! PTO Meeting tonight at 6:30 in Marissa Whipple's classroom Our 2020-2021 yearbooks are in! Current students can collect pre-ordered yearbooks or purchase one ($45) from room 112 (Spanish room) at the following times. Before school 8:00am – 9:30am or after school from 3:00pm- 4:15pm. Parents/graduates can pickup their copies after school. Location will be at a table by the HS office (just inside the doors) from 3:30 -4:00 this week only. We will also have a table set up at the volleyball game Tuesday the 31st. Any alternative time will have to be scheduled. If you have any questions, please email me at
melanie.koskela@k12.sd.us
Thank you to everyone who made this yearbook possible! School Picture Day: Thursday, September 2nd Order your 2021 Yearbooks now! If you place your order by October 8th, you can select up to 4 free icons with the purchase of personalization. Order forms are available from Mrs. Koskela, either of the school offices, or you may order online at
http://jostensyearbooks.com/?REF=A07697300
The cost of the yearbook is $45.
Baltic Bulldogs will be hosting the Parker Pheasants tonight at 7:00 PM at the Baltic High School come out and support the team. To view our live stream event please visit our YouTube page at
https://www.youtube.com/watch?v=EBzmQqWjtzY
We hope to see you all out there showing your Bulldog G.R.I.T.
Hello Elementary Families, I hope my email finds you enjoying your summer. While summer has seemed to fly by, I sure am looking forward to seeing all your students in the upcoming weeks. It will be great to see their smiling faces and hear about what they did over summer break! Please see below, and mark your calendars, for some important information I wanted to be sure and share with you. • Monday, August 9th, we will post your student's teacher in Campus. Please log into your Infinite Campus account to check who their teacher will be this school year. • Monday, August 16th, from 6:30 - 7:30 PM we will be having an open house where you can bring your student, drop off their supplies and meet their teacher. We look forward to being able to have this option this year. I know I missed out on meeting many of you last year, in person, and look forward to having this opportunity. o PLEASE NOTE:  Preschool will be having a separate open house on a later date. Please look for information on that coming soon.  Kindergarten will be scheduling a family meeting, for each student, so they will not be at open house.  Junior Kindergarten and 1st -5th grades will be present at the open house on the 16th. • Wednesday, August 18th, will be our FIRST DAY OF SCHOOL !!!! If there is anything you may have questions about, please don't hesitate to contact our front office or myself. I look forward to seeing you all on the 16th from 6:30 - 7:30 PM! Take care, Carrie Klein Elementary Principal and Special Services Director
Hello Baltic 7-12 Families, We have a lot of events going on this week leading up to the beginning of our fall sports seasons. Below is a reminder of the events. Please consider attending. Monday, August 2nd - Baltic Athletic Booster Club Meeting at 6:30 on the football field bleachers. All are welcome to attend. Tuesday, August 3rd - Impact Concussion Testing from 9:00am to 12:00pm. This is our last scheduled session. If your student is playing a fall sport and has not signed up for a time, please come tomorrow morning to complete this 20 minute test. Tuesday, August 3rd - Fall Sports Parents Night with the following schedule: 6:30PM 7th and 8th Football 7th and 8th Volleyball All Cross Country (7th-12th) 7:00PM 9th-12th Football 9th-12th Volleyball All meetings will be held in the MS wing. Sports practices start as early as this Thursday with high school football. All athletes will need to have a completed physical as well as completed online registration before they can participate in any practices. Follow this link for Athletic Registration -
https://baltic-ar.rschooltoday.com/home
. If you are unsure on the physical or online registration, please reach out to Secondary Administrative Assistant Carol Wickham at
carol.wickham@k12.sd.us
or Activities Director Cameron Kerkhove at
cameron.kerkhove@k12.sd.us
. Thank you, Cameron Kerkhove Secondary Principal/AD
We are currently searching for a special education teacher assistant for the upcoming school year. Hours will vary slightly depending on the specific duties, but start time will be from 7:40am to 8:00am and end time from 3:30pm-4:00pm with a minimum of 7 paid hours per day. This is an hourly position with the hourly rate dependent on the education and experience of the person hired. Two or more years of post-secondary education is desired but not required, and all applicants with a high school diploma will be considered. This 9-month school year position includes benefits such as sick leave, health insurance, paid holidays, and state retirement. Ideally, the person would start on August 13th with some flexibility on the start date for those who may need to give notice to a current employer. To apply, submit a resume and Baltic School District Non-Certified Employment Application (attached) to Supt. Bob Sittig, Baltic School District, PO Box 309, Baltic, SD 57003, or by email to
robert.sittig@k12.sd.us
. EOE. The position will be filled as soon as a qualified applicant is found, so don't delay applying if you are interested. If you know someone who might be interested who is not a Baltic School parent, please forward this message to them. Supt. Bob Sittig
Dear Parents of 7th-12th Grade Athletes, Parent meetings for fall sports will be held on Tuesday, August 3rd using the schedule below. A reminder also that all parents must complete the athletic on-line registration and submit a completed physical form prior to an athlete being allowed to practice. The link to athletic registration is below (same link as school on-line registration). 6:30PM 7th and 8th Football 7th and 8th Volleyball All Cross Country (7th-12th) 7:00PM 9th-12th Football 9th-12th Volleyball All meetings will be held in the MS wing. A reminder also that the deadline for ordering Spirit Wear is 11:59pm on Sunday, August 1st. The link to order is below. Baltic Spirit Wear Sale
https://hauffsports.chipply.com/baltic2021/
Baltic On-Line Registration
https://www.balticschool.org/page/online-registration
AD Cameron Kerkhove
Hello Baltic 7-12 Families, We are not far from our Fall Sports Seasons starting. Before these seasons start, we would like to have all fall sport athletes take the Impact Concussion Test Baseline. This free program for athletes will give us a baseline for athletes before the seasons start. I am attaching a link to sign up for a time slot. Please follow the link and sign your athlete up for this free test. We highly suggest that all athletes take this test prior to the first practice. We will have the computers available for students to use. Link to Impact Concussion Testing Sign Up Here -
https://signup.com/go/qngvHBz
Thank you, Cameron Kerkhove Secondary Principal/Activities Director
Dear Baltic Students and Parents, With the 4th of July holiday in the rearview mirror, it will not be long before the August 18th first day of school. I hope you have had a wonderful summer, but it is time to begin thinking of school. On-line registration is now open via the link below or on the school website. We ask that all parents of PK-12th grade students register each of their students for the upcoming school year. If a student is returning, much of their information will be prepopulated, but we ask that you check it for accuracy and make corrections as needed. If a students is new but there were other students in the household attending Baltic last year, then you will just need to add the new student. If a student is new and the first student from that household attending Baltic, then please follow the instructions for registering new students. Parents, please do not put this off. It is especially important that rural families requesting bus transportation complete registration in a timely manner so bus routes can be established. In-town bus riders need not request transportation via the on-line registration. Closer to the start of school we will establish pickup and drop-off points around town, and if they need to be adjusted, we will do so. In addition to general school registration, students in grades 7-12 who plan to participate in school athletics must complete the on-line athletic registration. Athletes will not be allowed to participate in practices or contests until the on-line registration is completed. If you have any trouble completing either the school or athletic on-line registration, please feel free to call the school. If you do not have access to a device with which to complete on-line registration, you may come to the school and use a kiosk we have set up for just that purpose. We look forward to working with you this next school year. Go Bulldogs!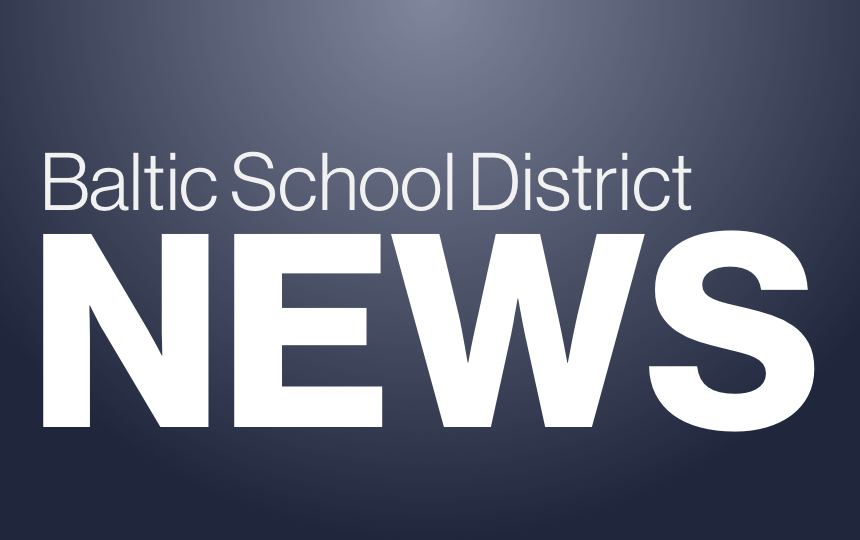 Dear Baltic Lords and Ladies, The Royal Secretariats of the Queen's Court have announced that the Baltic School Board has given permission to plan and prepare a community Madrigal Dinner: A Celebration of Christmas in a Dinner Theatre style with a Renaissance theme (use the fancy Google machine for more information) as a fundraiser and event for the Baltic School Fine Arts. If you are interested in being involved in such an event, please meet in the school commons - the month of July, the day of 7 and the year of 2021 at 7pm. The Royal Secretariats are inquiring of your interest in participating in the Madrigal dinner - it requires a jester, an accompanist and twelve singers to perform the music that was requested by the Queen. The twelve singers will include three sopranos, three altos, three tenors and three bass who are willing to learn the music to please the citizens attending the event. After the meeting in the commons on July 7, Lady Tara, Lady Kelley and Lady Janice will know the interest level of the community (all ages welcome) and then schedule an audition, if needed. We will eventually enlist the help of other fellow community members to help with the feast, costumes, decorations, and involvement of the youth. The Queen's Royal Secretariats are: Lady Tara Rollinger, Lady Kelley Herman, and Lady Janice Schardin. The event is scheduled for: the month of December, the days of 4 and 5, in the year of 2021. Performances to be on Saturday evening, Sunday noon and Sunday evening so that as many Baltic area subjects can enjoy the feasting, fellowship, and frivolity! Lady Tara and Lady Kelley can be reached by using the amazing technology they call internet and email your specific Royal Court interest to either:
Tara.Melmer@k12.sd.us
or
Kelley.Herman@k12.sd.us
. Sincerely, Lady Tara, Lady Kelley and Lady Janice